Hey, fellow San Antonians, looking for festive things to do from now until Christmas? Here is the Claus Team's list of top things to do.
1. Light the Way, now through Jan. 6
Nearly a million lights decorate the University of Incarnate Word campus for this festival, from now until January 6. Check out this aerial photo of the campus. Isn't it gorgeous?
The University of the Incarnate Word, 4301 Broadway, San Antonio, Texas 78209
2. The Valero Alamo Bowl, Jan. 2
Come cheer on the Big 12 and Pac-12's number-one teams from two premiere conferences. The Valero Alamo Bowl features some of ESPN's most popular bowl games ever. They have sold out the last six out of eight years. GET YOUR POPCORN READY!
100 Montana Street, San Antonio, TX 78203
3. Hecho a Mano, now through Jan. 4
Get a taste of traditional and contemporary Latino culture in San Antonio by this new boutique and picking up some authentic, unique gifts at the Guadalupe Cultural Arts Center.
723 South Brazos Street, San Antonio, TX 78207
4. Fiesta de Navidad, Dec. 19-Dec. 20
What a beautiful way to celebrate a traditional Christmas story AND San Antonio-Latino-Spanish culture! Here you'll be able to see the one-of-a-kind Pastorla Folklorica, a fun take on a time-honored version of the Nativity story. Members of the Guadalupe Dance Company will perform
flamenco and folklorico dances. Tickets are only $10.
1301 Guadalupe, San Antonio, TX 78207
5. Seaworld San Antonio-now through Jan. 2
Shamu performs his "Christmas Miracles", Elmo makes a special "Christmas Wish", and the dolphins put on a spectacular show! Sit back in the stands, get cozy with your family, and watch with cocoa and candy-canes in-hand. Afterward, you can take in the awe and splendor of the Christmas lights around the facility.
10500 Seaworld Dr., San Antonio, TX, 78251
6. Christmas at the Caverns, now through Dec. 23
After you take in the lighted view of the park, spelunk your way down to their underground Christmas shows, Caroling at the Caverns, and Journey to Bethlehem. There's also a charming Christmas village, singing cowboys, s'mores, zip lines, and more!
26495 Natural Bridge Caverns Road, San Antonio, TX 78266
7. Morgan's Wonderland, now through Dec. 23
In this wintry 25-acre park, take your picture with Santa, pet some animals at the petting zoo, and get your Ferris wheel on! Do you think there might be real reindeer at the petting zoo? We want to find out!
5223 David Edwards Drive, San Antonio, TX 78233
8. Six Flags Fiesta Texas, now through Jan. 4
Hop off that Ferris wheel at Morgan's Wonderland and hop ON to a super scary roller coaster! Many a thrilling ride and tasty treat await you here, including Santa at his castle and a show called the "Majesty of Christmas".
170000 IH West, San Antonio, TX 78257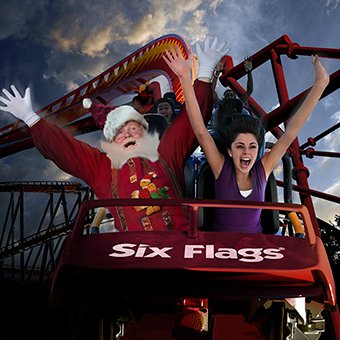 9. New Year's Celebrate San Antonio, Dec. 31
Experience how San Antonians ring in the New Year with food, music, and a fireworks show that'll knock your Santa hat off.
10. Santa's Ranch, now through Jan. 3
Show the kids where Santa stays when he visits Texas. There are about a mile of amazing Christmas scenes to see with over a million spectacular lights.
9561 I-35 North, New Braunfels, TX 78130